What is the need to add Bank details while filing an Income-tax Return?
The Income-tax Department used to require at least one bank account detail to process your refund.
Since 2015, the Income-tax Department has given mandated that all taxpayers must report all the bank accounts they possess in their tax returns. This also includes joint accounts as well.
Is it mandatory to give the details of all bank accounts while furnishing ITR?

When you are e-filing your return, the Department will not ask you for giving all the bank accounts you have mandatory. But, one should know that in case of opening a new bank account filling up KYC and submitting of PAN number are mandatory. Since the PAN number is linked with the Income-tax return, the Department has knowledge of every bank account that you possess.
Note-: It is not mandatory to provide details of accounts that are dormant. So, one can omit giving details of those accounts which have been not in operation for the past 36 months, since those are considered dormant.
What is IFSC Code?
IFSC (Indian Financial System Code) is basically a code that is alphanumeric containing 11 Characters. It is given to each bank branch that takes part in the basic electronic systems i.e. RTGS (Real Time Gross Settlement) or NEFT (National Electronic Funds Transfer). To know more in detail click here.
What is MICR code?
MICR - Magnetic Ink Character Recognition is a technology for processing cheques. It is of 9 digits and can be found in your bank account's cheque book. To know more in detail click here.

BSR code (bank branch code) is unique for a branch of a bank. Hence all the branches of any Bank will have their unique BSR ( Basic Statistical Return) Code. This will help to recognize the bank's branch detail.
What is ECS?
ECS is an electronic mode of funds transfer from one bank account to another. It can be used by institutions for making payments such as distribution of dividend interest, salary, pension, among others. It can also be used to pay bills and other charges such as telephone, electricity, water or for making equated monthly instalments payments on loans as well as SIP investments. ECS can be used for both credit and debit purposes.
How to add Bank details to the myITreturn mobile app?
Add the details of your Bank by entering the IFSC code, Bank Name, Account Number as well as the type of account and click on the "SAVE" in order to save the details which you have entered.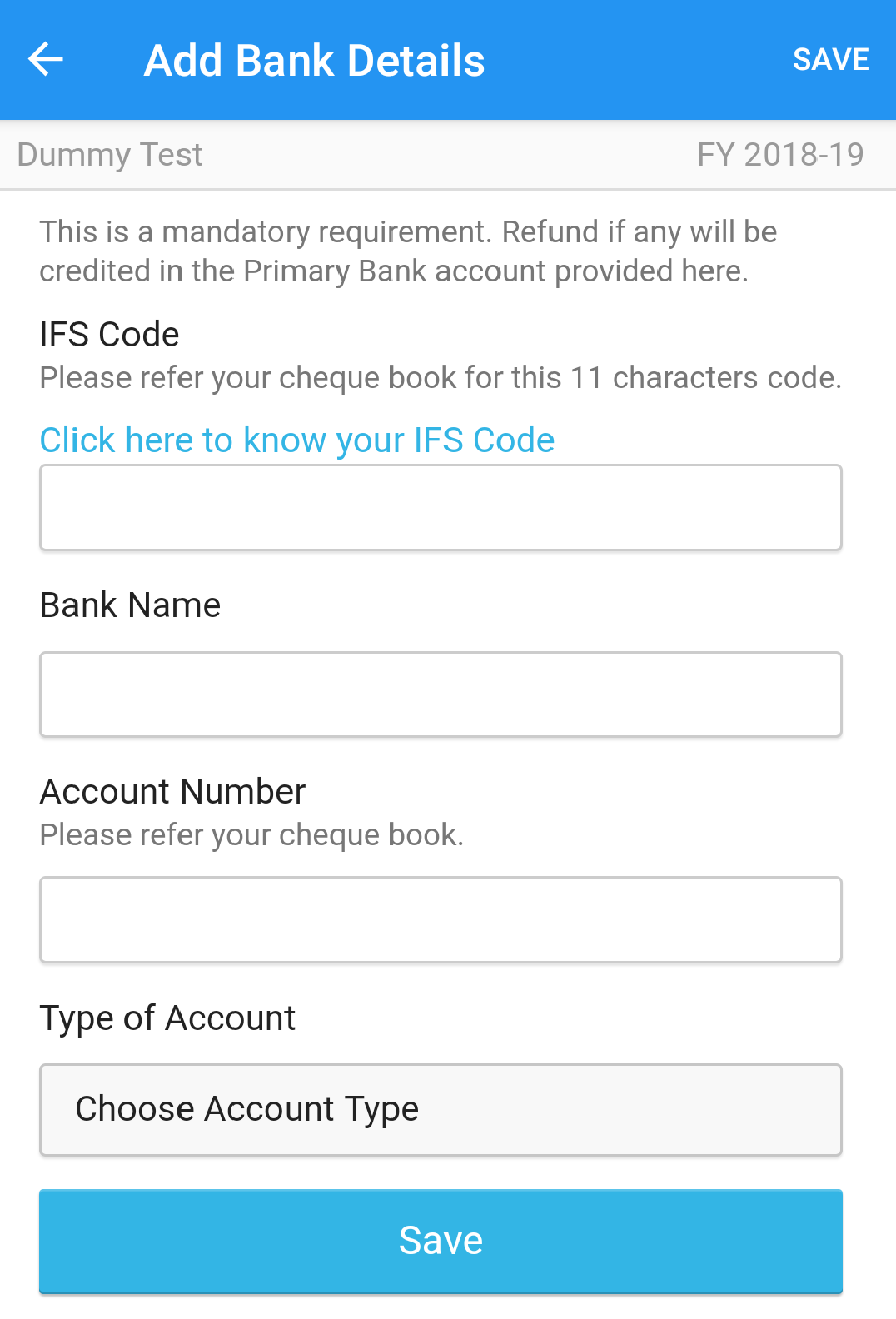 How to add Bank details to myITreturn.com?
Click on Bank details under Other Details from the top menu.