Steps to upload multiple Form 16 in myITreturn
Form 16 contains the details of salary earned by the employee and tax deducted from it by the employer. One can easily import one Form 16 and file his Income-tax return. But there are certain cases where a person can have more than one Form 16. For e.g. switching of jobs, working with multiple employers, etc. Such persons usually face issues while filing Income-tax Return.
myITreturn has provided solution for such cases. Now users can upload all the Form 16 and myITreturn will compile the details from all Form 16 for filing.
Here are the steps for uploading multiple Form 16 in myITreturn:
Step 1:
Visit myITreturn.com. There is a button " Upload your Form-16 ", click on it. Please see the screen given below for reference.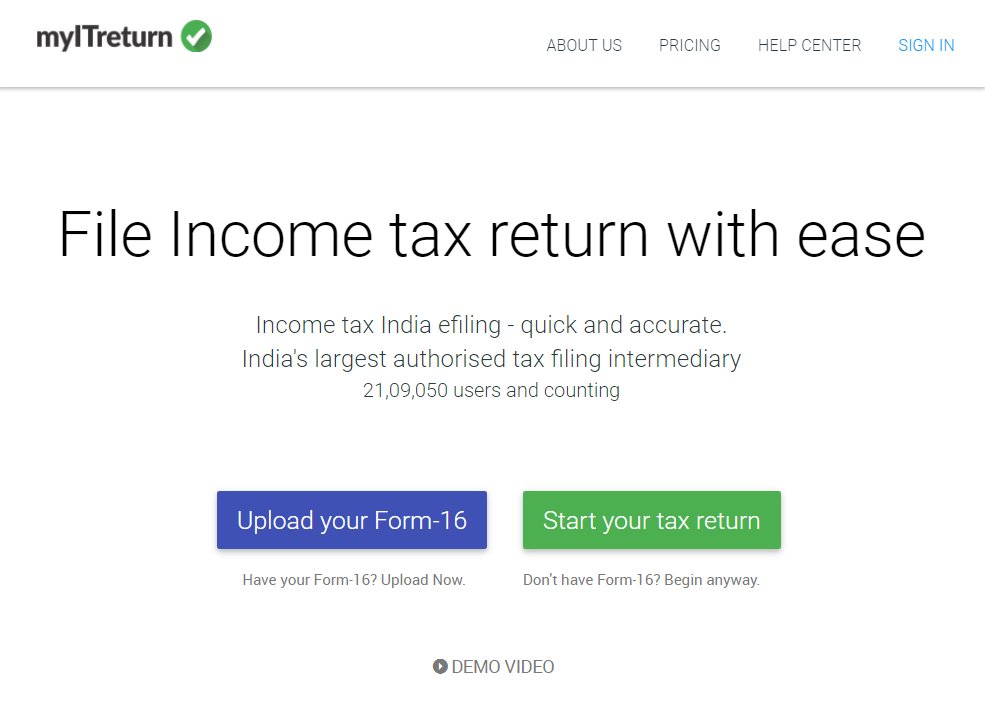 Step 2:
After clicking on the button in Step 1, the below screen will appear. Upload your Form 16. It should be in pdf format.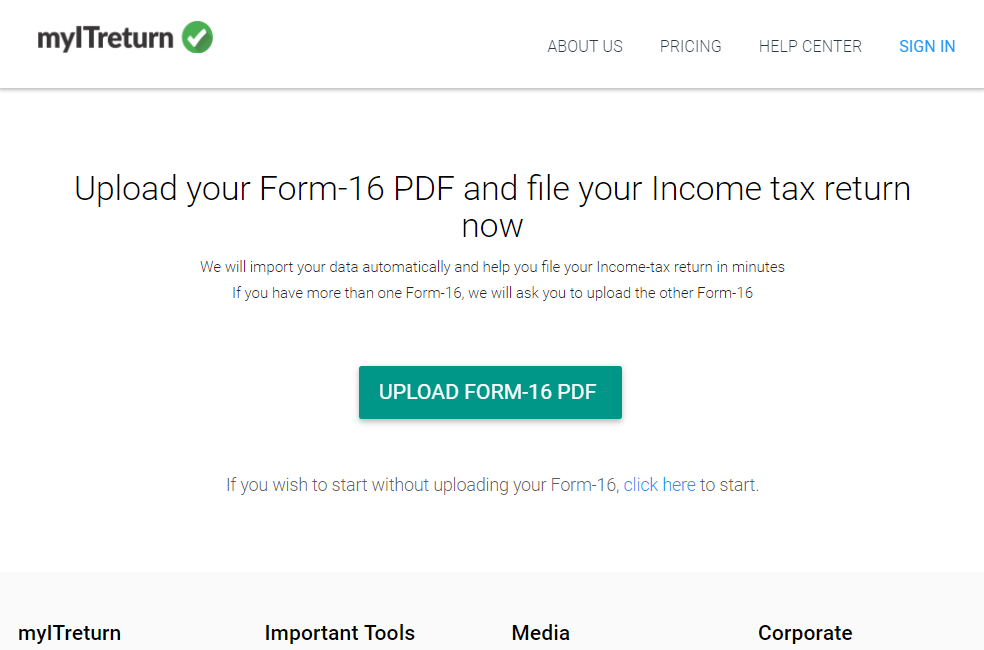 Step 3:
After uploading your form 16 , the screen given below will appear. You will then be asked to login to your myITreturn account. If you are a new user, you will be asked to sign up.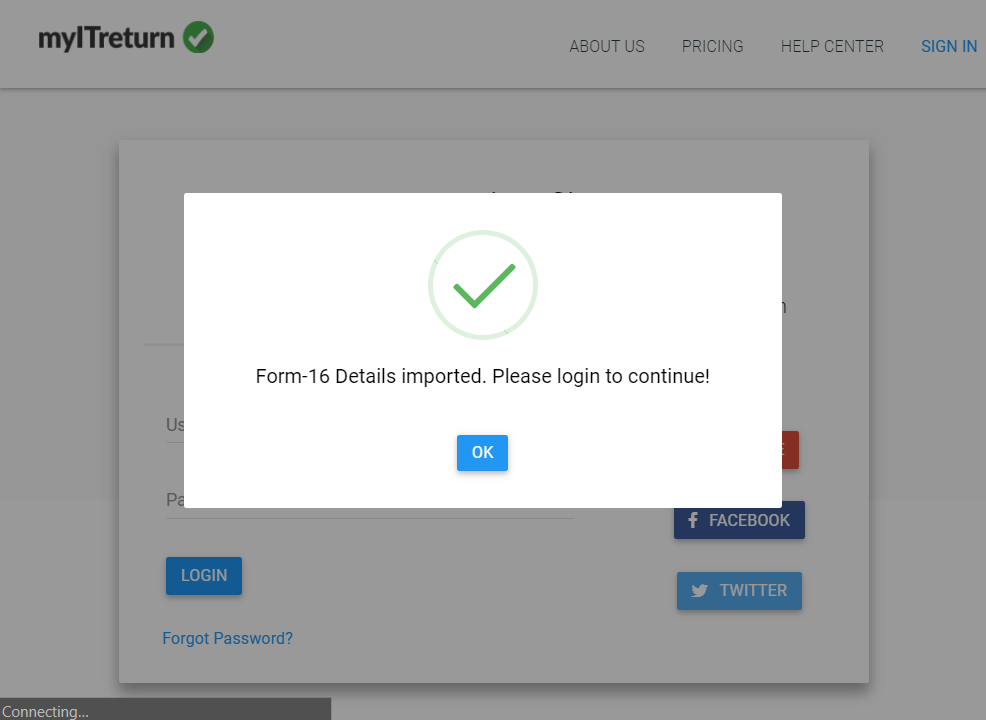 Step 4:
Once you login, details of your uploaded Form 16 will be displayed under the head "Salary" . You will see the screen given below displaying your tax summary. In case you have another Form 16, click on 'Yes'  button as shown in the screen given below.


Step 5:
After that, below given screen will appear. Click on 'Upload' button and upload the second Form 16 in the same way as you uploaded your first Form 16.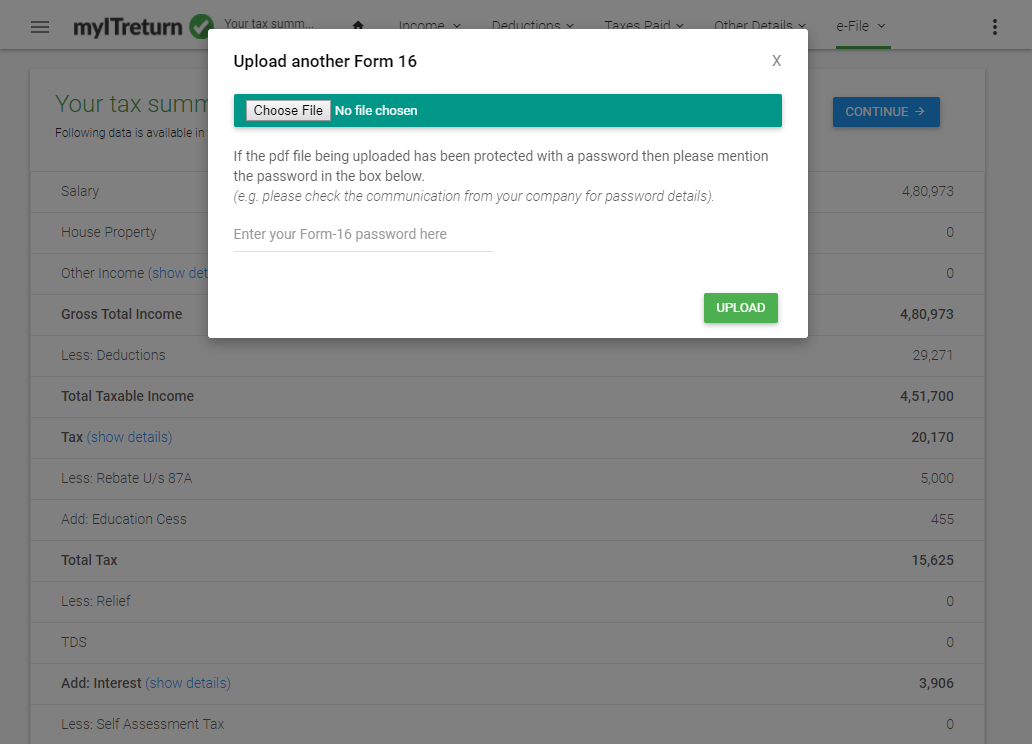 Step 6:
Confirm details of Form 16 (Applicable in certain cases only)
Once Form 16 details are fetched, you will be shown the details for verification purpose as below: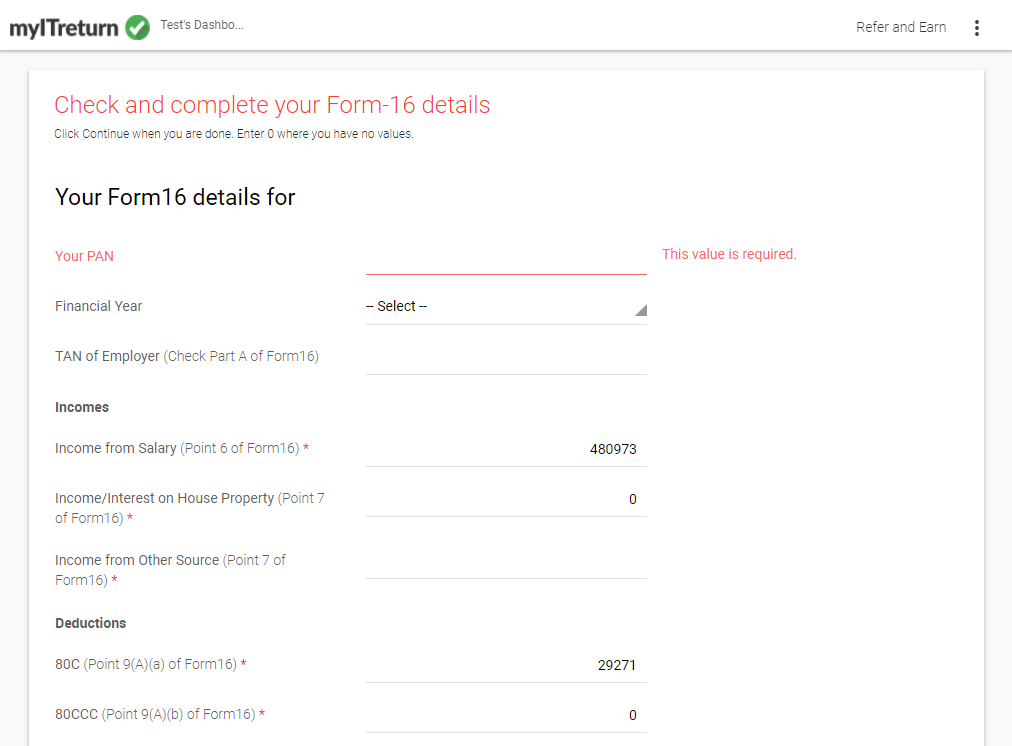 Please verify imported figures with your Form 16. You should correct the details wherever necessary.
Step 7:
After you have entered all the details, you will be shown imported details for confirmation. Please confirm if details are correct.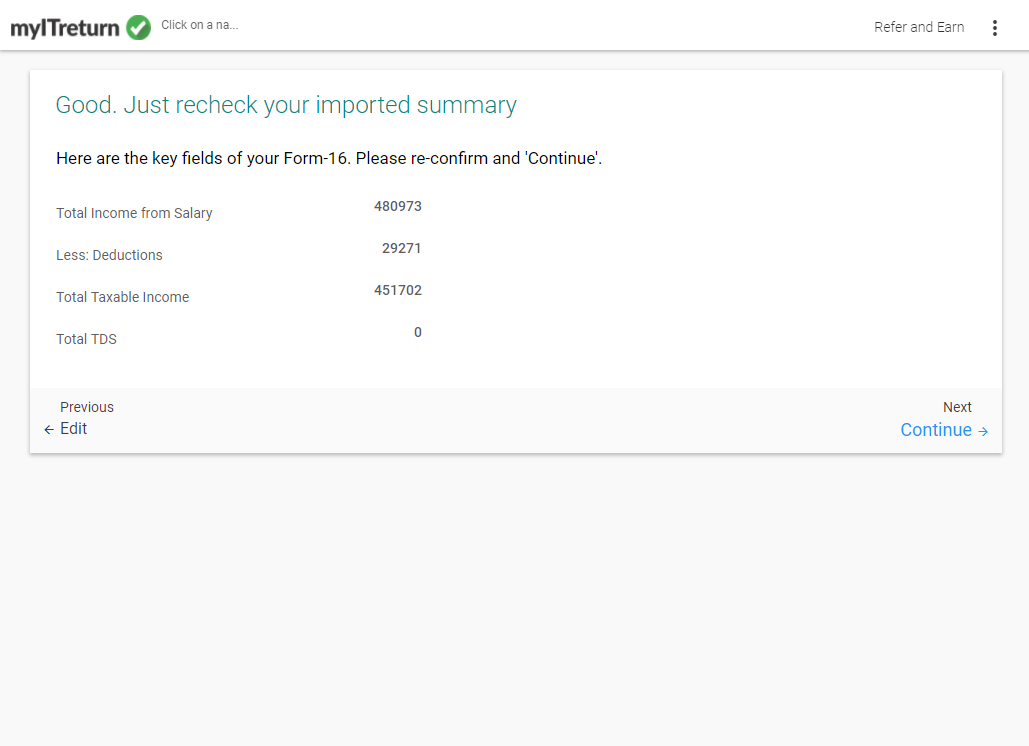 Step 8:
In case you are having more than two Form 16, You can always import the additional Form 16 from option provided at various places.
Option 1: Member Dashboard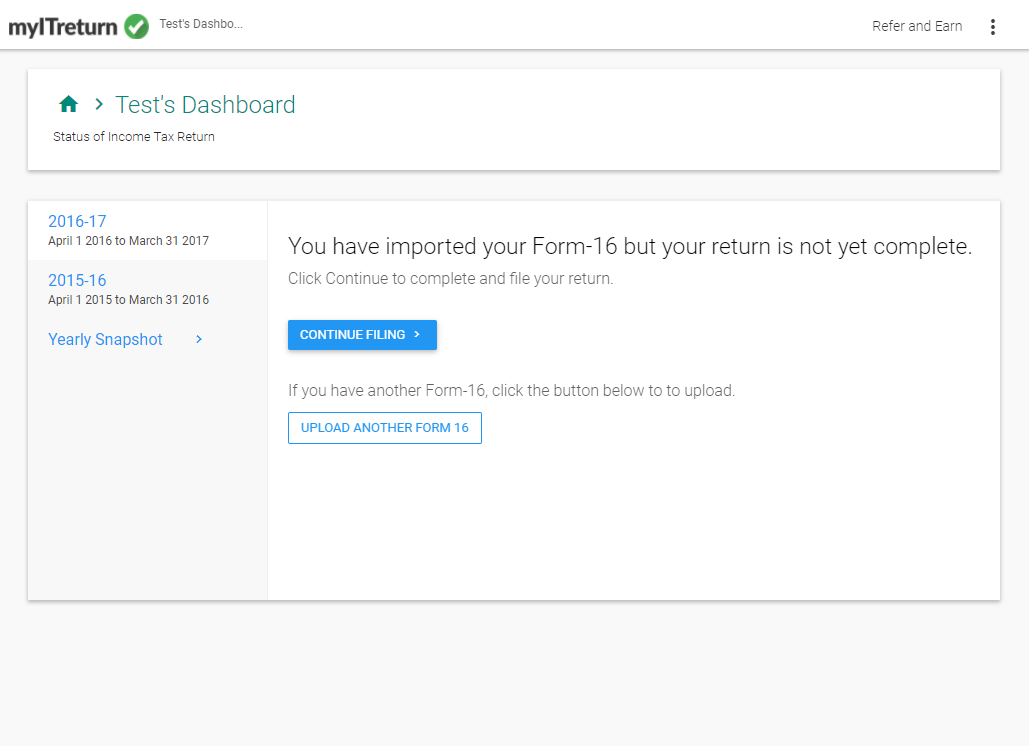 Option 2: Salary Income Screen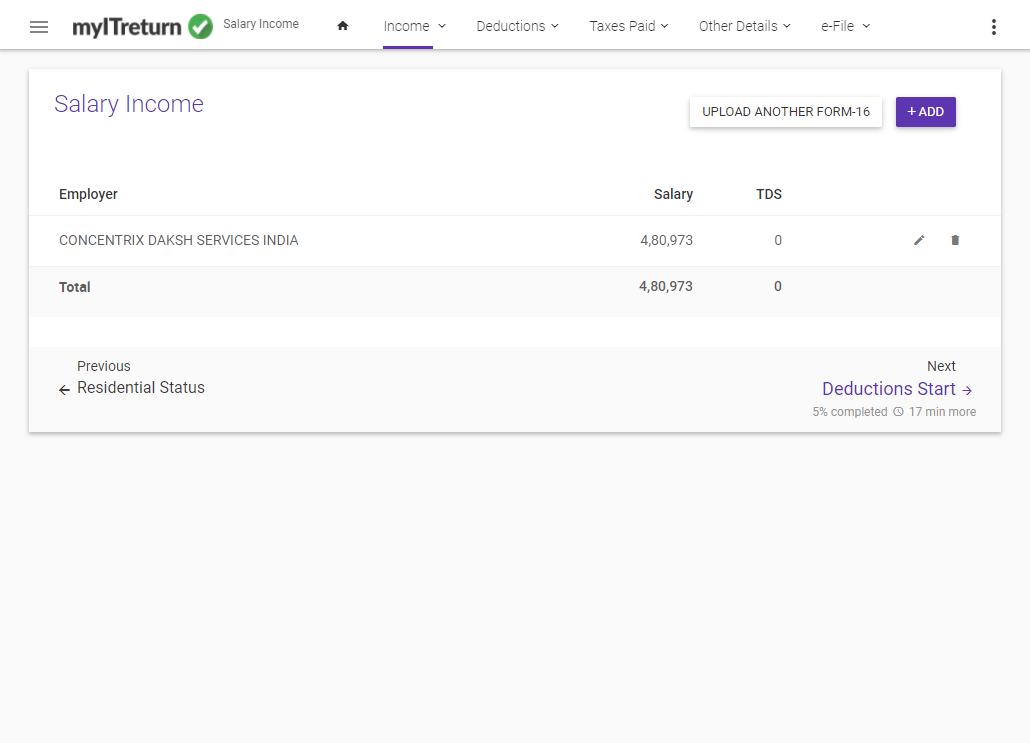 Please note that we have put our best efforts to import all details correctly. But you are advised to review all the details before proceeding to file the return.