Whether it is your first year of filing taxes or you are a seasoned campaigner by now, the chances are high that you would have come across Form 16. It is quite obvious to have a few questions related to the same. Questions such as is it mandatory for your employer to provide you with Form 16, what is the use of it, how do I read the form 16, what to do if I have more than one form 16 etc.
If you are working for any organization and they deduct TDS from your salary, they are expected to provide you with a Form 16. The only caveat being, if your employer deducts taxes at source, they are liable to provide you with Form 16.
The form essentially contains details about you, your employer and the salary-related details. If you were to take a glimpse at Form 16 of an individual, you can gain quite a bit of information about them. From basic information such your name, PAN number, address of the taxpayer, address of employer to more detailed information.
The more detailed information contains your annual income, taxes that your employer has deducted at source, the net taxes that you are liable to pay, deductions, exemptions, etc. Depending on your employer, you might receive additional information along with your Form 16. This could include a cover letter, fringe benefits, perquisites, profits, etc.
One of the biggest advantages is that you can file ITR using Form 16. If you have paid taxes or your annual income exceeds the minimum threshold of INR 2,50,000, you are expected to file your tax returns. With the help of Form 16 ITR filing become relatively easier.
For instance, you can just visit myITreturn's website, upload form16 to file ITR, review the return and file almost immediately. It is just as simple as uploading a new picture on your social media plus a coffee break.
The only time one might get a bit confused with the uploading and filing your return process is if you change your organization. If you have changes companies, you are most likely to receive two or more Form 16s during a fiscal year. Multiple form 16 ITR filing might sound a bit complex, but it really isn't.
When you want to file Income tax return of two salary incomes, multiple Form 16 scenario comes into the picture. Consider this, Rohit was working for ABC Inc. from March 2018 till July 2018 and then changes his company to XYZ Inc. and works till date. For the FY 2018-2019, Rohit will have to file itr with 2 employer form 16.
Both ABC Inc. and XYZ Inc. will provide him with two Form 16s. The details of how to upload multiple form 16 to file ITR is mentioned below.
Steps to upload multiple Form 16 in myITreturn
Form 16 contains the details of salary earned by the employee and tax deducted from it by the employer. One can easily import one Form 16 and file his Income-tax return. But there are certain cases where a person can have more than one Form 16. For e.g. switching of jobs, working with multiple employers, etc. Such persons usually face issues while filing Income-tax Return.
myITreturn has provided solution for such cases. Now users can upload all the Form 16 and myITreturn will compile the details from all Form 16 for filing.
Here are the steps for uploading multiple Form 16 in myITreturn:
Step 1:
Visit myITreturn.com. There is a button " Upload your Form-16 ", click on it. Please see the screen given below for reference.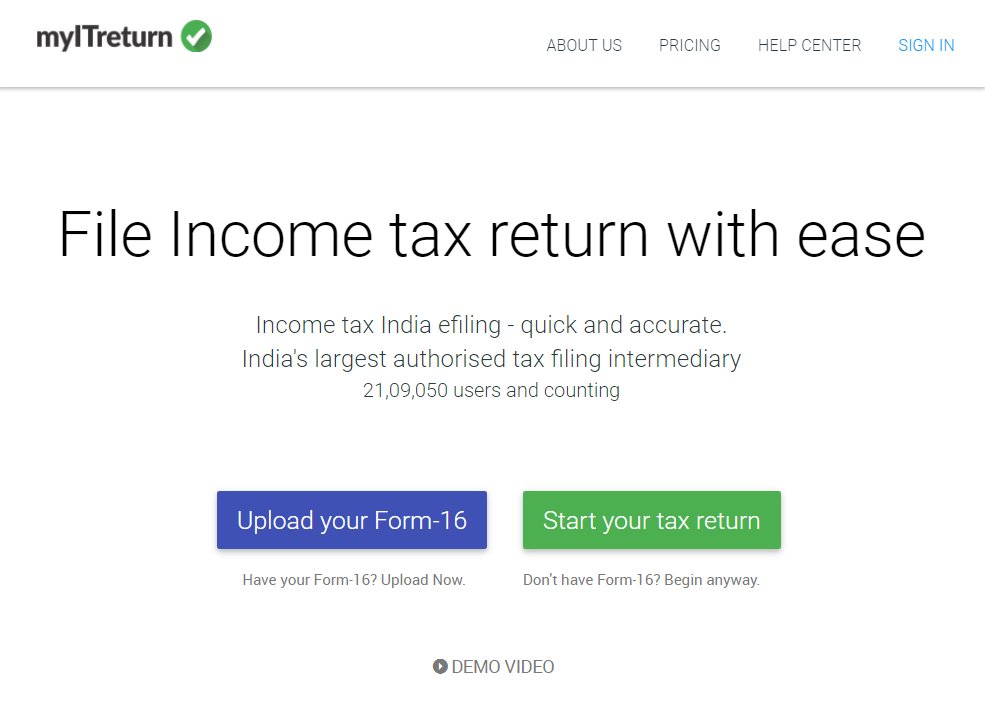 Step 2:
After clicking on the button in Step 1, the below screen will appear. Upload your Form 16. It should be in pdf format.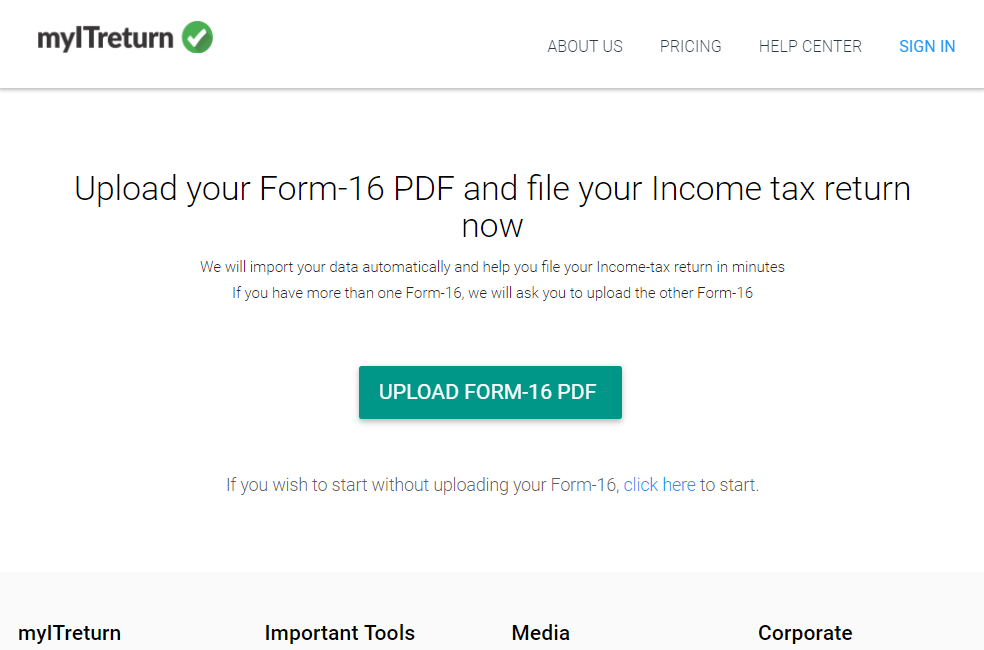 Step 3:
After uploading your form 16 , the screen given below will appear. You will then be asked to login to your myITreturn account. If you are a new user, you will be asked to sign up.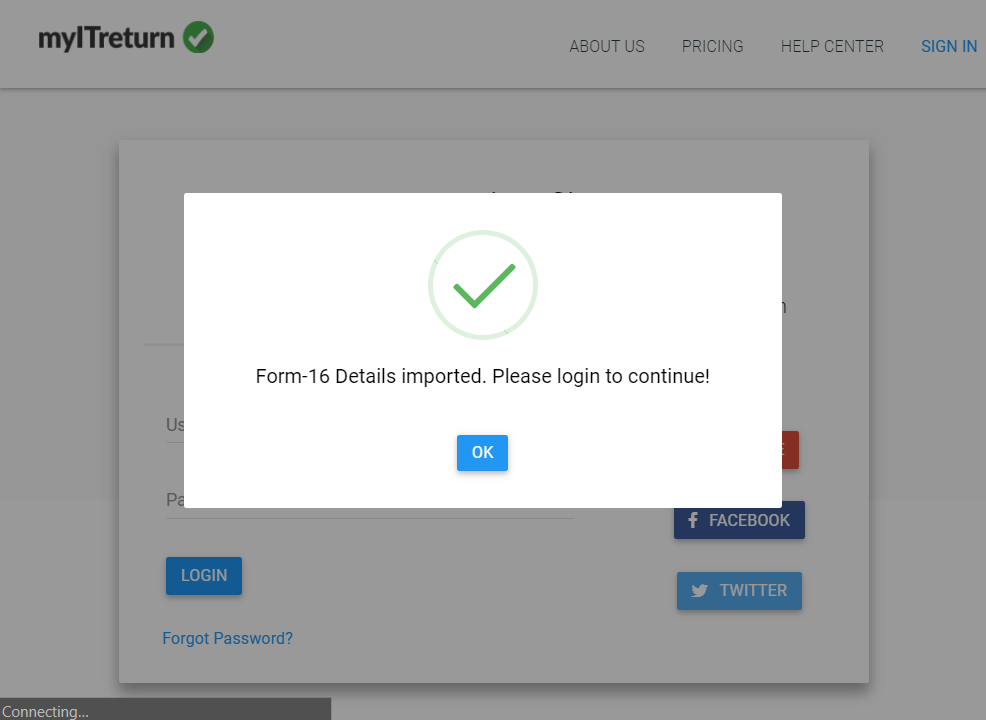 Step 4:
Once you login, details of your uploaded Form 16 will be displayed under the head "Salary" . You will see the screen given below displaying your tax summary. In case you have another Form 16, click on 'Yes' button as shown in the screen given below.


Step 5:
After that, below given screen will appear. Click on 'Upload' button and upload the second Form 16 in the same way as you uploaded your first Form 16.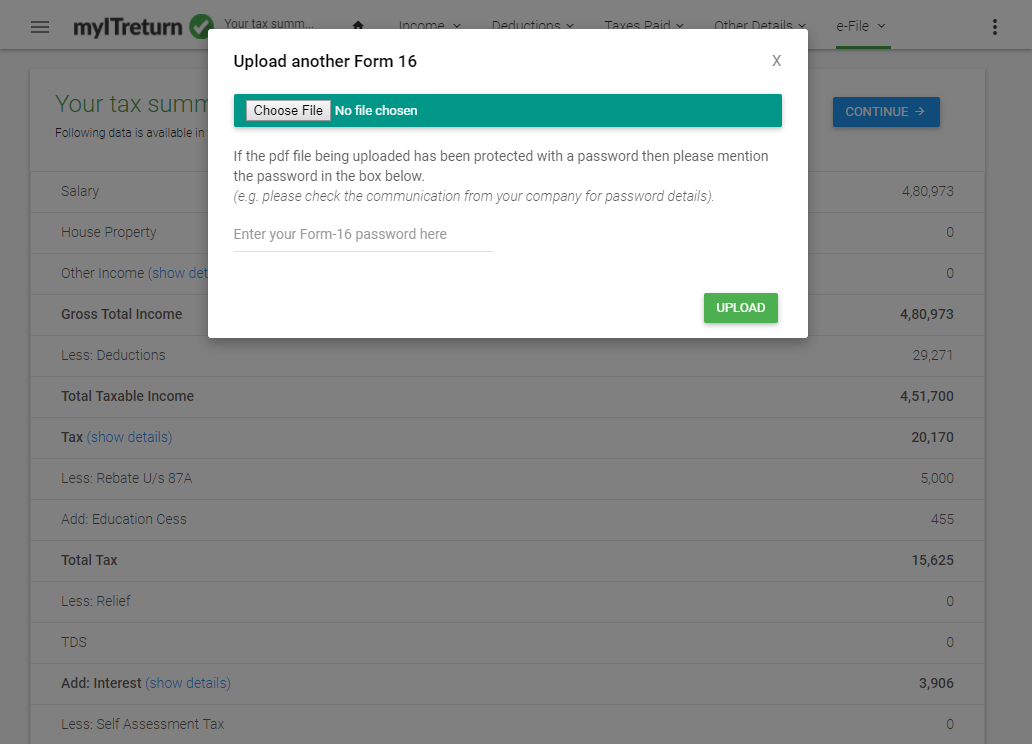 Step 6:
Confirm details of Form 16 (Applicable in certain cases only)
Once Form 16 details are fetched, you will be shown the details for verification purpose as below: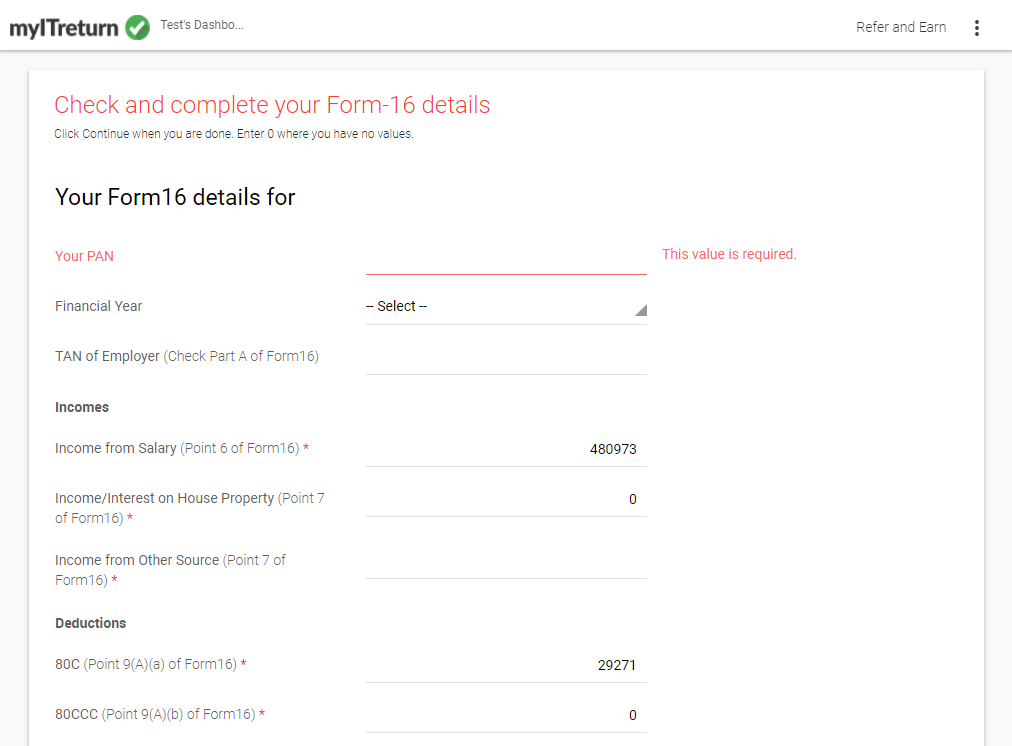 Please verify imported figures with your Form 16. You should correct the details wherever necessary.
Step 7:
After you have entered all the details, you will be shown imported details for confirmation. Please confirm if details are correct.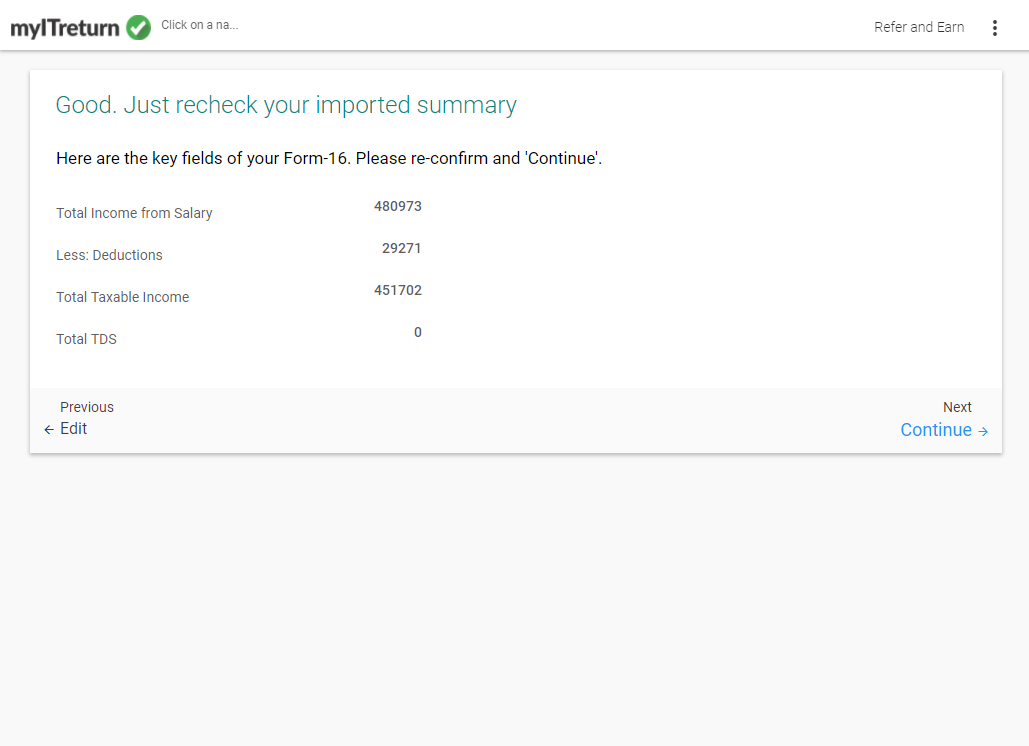 Step 8:
In case you are having more than two Form 16, You can always import the additional Form 16 from option provided at various places.
Option 1: Member Dashboard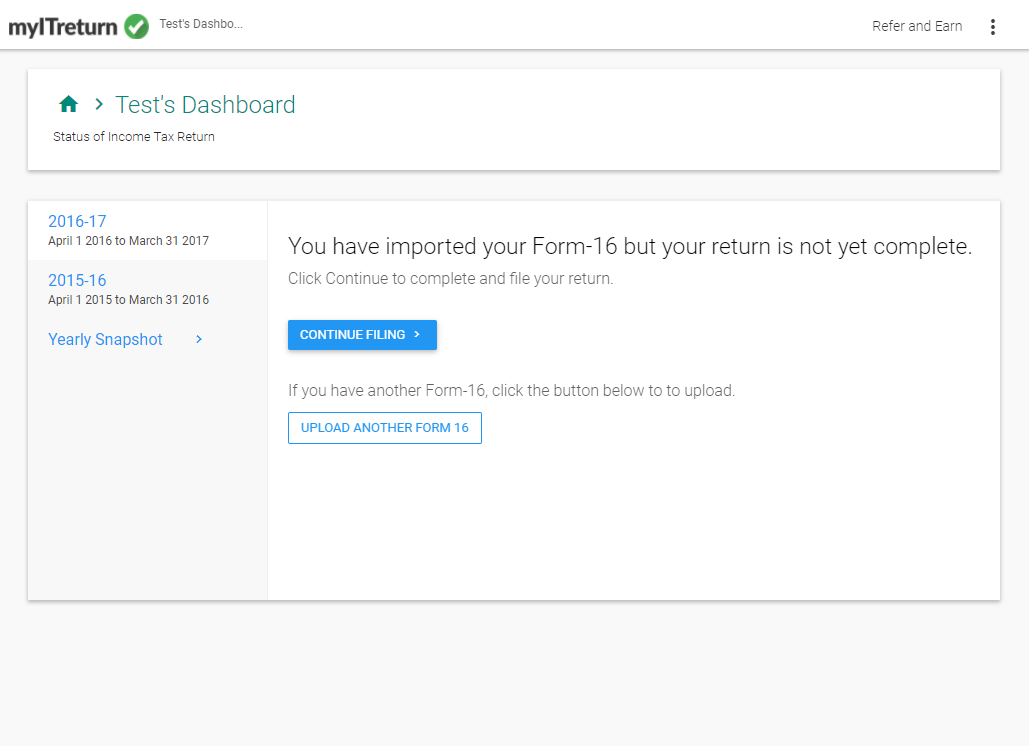 Option 2: Salary Income Screen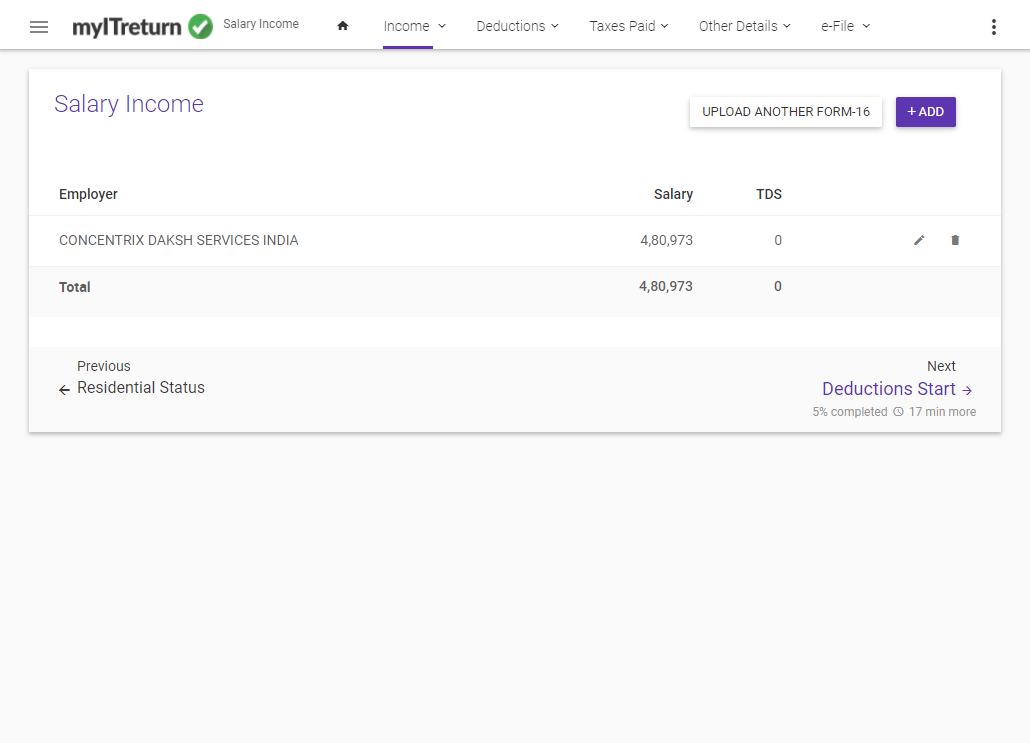 Please note that we have put our best efforts to import all details correctly. But you are advised to review all the details before proceeding to file the return.
Filing of income tax returns is much easier with Form 16 around. Following the above steps will ensure that you are able to proceed with your return filing, with multiple Form 16 and without any hassles.
Once you upload your form 16 pdf to ITR, myITreturn will take care of populating all the required fields. Though we do our best, it is recommended that you review the return once thoroughly before filing your return. This will ensure that all information provided in your tax return is accurate and reduces any changes of it being held or returned for modification.
In the event that you have any queries, you can feel free to reach out to myITreturn and we will gladly help you out when it comes to filing tax returns with multiple Form 16s.
FAQs
Do I need to file my returns?
If you are a resident Indian and your income exceeds the minimum threshold of INR 2,50,000 for a fiscal year, it is recommended to file your returns.


Are there any benefits of filing returns?
Yes. There are actually quite a few benefits of filing your returns. A couple of examples include banks and financial institutions look for your ITR to approve loans, it is helpful for visa applications as well.


Can I file my returns with two or more Form 16s?
Yes. You can file your tax return with multiple Form 16s. For further details, refer to the article above.


Can I get any assistance during my tax return filing?


If you have any questions or queries regarding tax return filing, myITreturn will be more than happy to assist you with the same.